Horos users from all over the world participated in the event at Apple during RSNA
As the snowy wind blew outside, the Apple board room felt more like a cozy living room, with healthcare professionals sitting on couches and sleek wooden chairs, immersed in discussion around radiology, Apple's latest Mac products, and the reason they were there - Horos.
This group of more than 20 international Horos users were in Chicago for the 104th annual Radiological Society of North America (RSNA) conference, one of the largest gatherings of radiologists in the world. As many radiologists, educators and technology specialists attending RSNA are active in the Horos community, it's the perfect opportunity to connect with each other in person.
Purview, a healthcare technology company and the chief sponsor of the Horos Project, once again co-hosted this Horos user group meeting with Apple, as Horos is a Mac-based platform. The purpose of this event is to provide Horos users with the opportunity to learn more about their viewer's capabilities, the support resources available to them, and to meet and learn from other Horos users involved in radiology.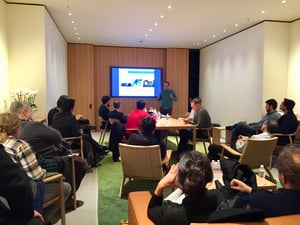 The Horos community is global and dynamic, with more than 170,000 members spanning across more than 170 countries. Though just a small percentage of this community were represented at this year's event, every attendee demonstrated the collaborative spirit that makes this community so valuable.
This year's event, held in the new Apple flagship store on N Michigan Avenue, which opened last year, was intentionally kept small for more focused discussion. The first participants to register online were accepted to attend this limited seating event, and we had educators, medical practitioners and software developers representing more than ten countries filling out the room.
The Apple business team opened the presentation with a warm welcome and an overview of how to make the most of Apple resources from anywhere in the world. Attendees were able to connect with the Apple team to learn more about and check out the latest devices and updates available.
Purview's Josh DeBartolo then gave an overview of the Horos Project - how it started, how it's grown, and where it's heading - before passing the mic to the chief code curator and developer of Horos, Fauze Polpeta. While discussing the newest features of the Horos software, such as radiology reporting, study sharing and improved cloud storage solutions, Polpeta conducted live demonstrations to show how simply and easily Horos users can get even more value out of their free application download.
Horos Cloud Reporting, Polpeta proudly shared, was named a finalist for Best New Radiology Software in the 2018 Minnies awards by AuntMinnie.com. This software is included for free, along with sharing capabilities, when Horos users create a free Horos Cloud account. Polpeta closed his presentation by discussing the focus of future developments - including the development of a web-based FDA approved viewer. Once he opened the floor to questions, the room became lively with discussion.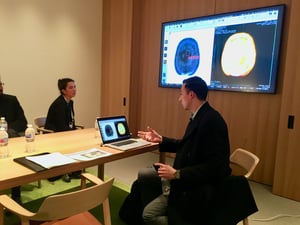 While Horos users are engaged and collaborative online, they are even more so in person! Throughout the question and answer portion, attendees answered each other's questions and discussed their experiences with their Horos viewer, plugins or other features. When one guest mentioned she had trouble viewing an image a certain way, another guest said he had encountered the same issue and knew how to solve it. He used Polpeta's open Horos application to demonstrate how to achieve the correct view with the screen projected on the wall so everyone could see. Guests around the room chimed in with additional comments and questions, and applauded once the solution was finally clear to all.
You could feel the comradery among these healthcare professionals as they engaged with each other to better understand and use Horos in their practices. At the end of the night, everyone exchanged handshakes, embraces, and business cards before heading back out into the cold Chicago night to prepare for another full day at RSNA.
This year's Horos user event successfully demonstrated the powerful value of community. For those who weren't able to attend the event at Apple, please enjoy this recording of our presentation.
Thank you to everyone who participated in this year's event! We're already looking forward to RSNA 2019!
Watch the Apple RSNA 2018 presentation