We're excited to announce that Horos Cloud Reporting was named one of two finalists for "Best New Radiology Software" in the Minnies 2018 awards!
Hosted by AuntMinnie.com, a radiology news and community website, the annual Minnies awards highlight "the best and brightest in medical imaging." It was an honor to be named one of 28 semifinalists, and we're thrilled to make it to the final round! The winner will be chosen by a panel of experts and announced in late October. Read the article here for a full list of the Minnies categories.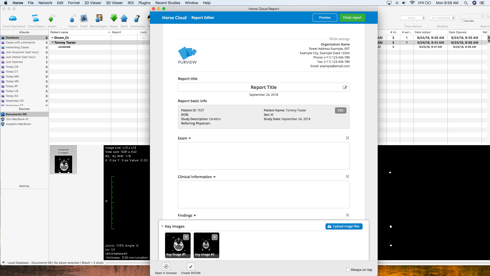 A huge thank you goes to the Horos Community who nominated us for this award in the first place! We couldn't dowhat we do without you, and we're grateful for your continual support. Our mission is to make medical imaging accessible and affordable for everyone. We get a step closer to that goal every day thanks to you!
The Horos Reporting feature enables Horos users to create personalized reports of their medical imaging studies - now with the ability to include key images! Including key images in a report can help improve communication with the patient or referring physician because it provides visual context for what you're describing. Not to mention, you can easily and securely share the study by email right in Horos. The reporting feature also helps users save time and maintain a professional look by creating and saving templates they can reuse.
Want to see what all the hype is about? Check out our Horos Reporting page or watch this video for a preview!